Mobile Friendly Websites
More people use mobile phones than PCs to get online. We make it easy for your clients to access your website from their smartphones, all our websites can sense when they are being viewed on a phone and adjust the display accordingly.
---
Thumb Friendly
Mobile devices don't have keyboards so our websites all display differently when a mobile visitor accesses them.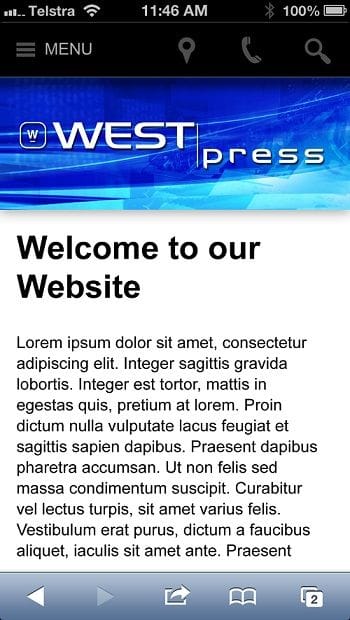 | | |
| --- | --- |
| | Bigger buttons that are made for pushing |
| | Larger text – no need to zoom |
| | Specific Layouts to make navigation clear |
| | Easy to use sliding menu navigation |
Make Content Specific
You can control the menu and content on the mobile site to be different to the main site or simply have the main sites content display in a mobile friendly way. It is also possible to purchase a custom look and feel for your mobile website.
| | |
| --- | --- |
| | Customisable banner image just for mobiles |
| | Have a specific mobile site menu |
| | Customisable content per page to specifically display on your mobile site |
Help Visitors Become Customers
Mobile websites can't just be a cut down version of the desktop version they must interact with the device and make the experience seamless for your customers.
| | |
| --- | --- |
| | Call button that interacts with the smartphone to directly dial your main phone number from the site |
| | Map button that directly opens to your physical address in maps/gps app on the phone for quick navigation |